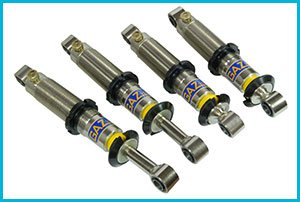 GAZ Classic
A vast range of height and damping adjustable units for road and competition use. These units are available in two diameters 1.3/4" o.d. mainly to take 1.9" i.d. coils.
These units have a 12mm piston rod and a gas cell fitted in the outer reservoir. The 2" nickel plated body units are available with 12-14 or 16mm rods and a wide range of spring seat sizes. These are also fitted with a gas cell to prevent cavitation and resist fade. All units are available with bearings, bonded or polyurethane bushes.
GAZ Gold Kits
Gaz Gold height adjustable kits are a premium range of suspension units designed for tarmac motorsport and the serious track day enthusiast.
Their features are:
1. Front and rear units adjust bump and rebound from a single control knob on the side of the unit.
2. Struts and semi struts have 62mm bodies for increased oil capacity. These units are fitted with 22mm diameter induction hardened piston rods that are hard chrome plated for strength and durability.
3. All units have multi lip sealing. The outer seal is a metal encased wiper to clean the piston rod. This in turn extends main seal performance and oil retention under extreme conditions.
4. All the Gold range are fitted with a gas cell in the outer reservoir and filled with a high viscosity index multi grade oil to prevent cavitation and rede fade in motor racing conditions.
5. The coilovers and telescopic units in this range utilise lightweight billet alloy components where possible, i.e. bases, end fittings, seats, lockrings, rod guides and gland nuts. The outer tube is steel with a nickel coating to provide the best anti corrosive finish possible. All outer alloy components are anodised.
6. A full range of springs are stocked at the factory for road and motorsport use.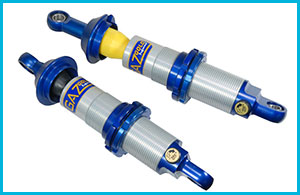 GAZ Gold Pro
Gaz gold pro kits are a premium range of suspension units designed for fast road, track day and tarmac motorsport use.
They are manufactured from high tensile alloy with induction hardened piston rods and have a multi point adjustable control knob to adjust bump and rebound.
These units are filled with high viscosity index fluid to alleviate cavitation and have an internal gas cell to help prevent fade, added to this the Gaz Gold Pro range are offered with self lubricating spherical bearings and progressive bump stops.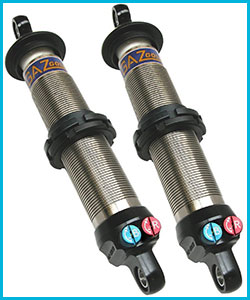 GAZ DA
Our flagship range of independent bump and rebound adjustable coilover units designed for motor sport use. These units have an all aluminium body and end fittings to take bearings or metalastic bushes.
These units have a 14mm piston rod and are fitted with a progressive rate closed cell bump stop. These units can be installed from vertical to horizontal as there is a gas cell fitted in the outer reservoir. Gaz offers a total rebuild and revalve service to back up this high quality product.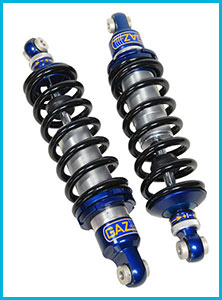 GAZ Monotube
A new quality damper to satisfy the needs of the discerning competition and track day enthusiasts. Built from high tensile alloy to withstand the high stresses that are involved in race conditions.
The damper body is hard anodised to give maximum protection against wear during use. Bump and rebound are on the car adjustable by a single adjuster on the rod and the unit is charged with an inert gas via an internal floating piston.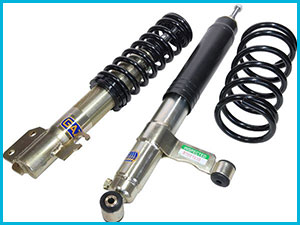 GAZ GHA
Gaz height adjustable kits are primarily made for the modified road car market.
The main features of these kits are:
1. On car damping adjustment
2. Shortened body and stroke lengths to allow a -25 to -65mm ride height adjustment
3. The units have a coarse acme form thread for ease of adjustment and to minimise corrosion the unit is zinc plated.
4. All units are provided with high quality coil springs in various rates and diameters. Spring rates can be altered on request to suit customers requirements.
5. When a coilover is unable to be installed a separate damper and rear coil spring with a variable spring platform is used so the kit retains full height adjustment.
N.B. These kits can obtain much lower ride heights for show purposes only but the vehicle should not be driven at these levels as the steering and drive shaft joints can lock out.